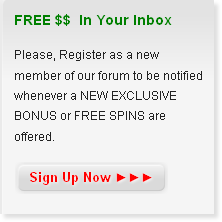 Statistics
We have
26468
registered users
The newest registered user is
GUAM671702
Our users have posted a total of
6650
messages in
3494
subjects

The Irish online betting firm Paddy Power has confirmed that they have released a new game called BetDash.

This is one of the new wave of social betting games and the aim is to let punters on the site try to win £1 million over 10 days of wagering on sports. The amount of the initial bet will determine exactly how much the lucky winner walks away with.

The game's features include live bet feeds which give the players the chance to see the wagers which get placed by punters in real time. If you want to you can also choose to follow the activity of the top players.



Starting Bankroll

At the beginning of the game, a player is given a virtual bankroll of €100,000 for the purposes of placing bets. At no point in the game can a player "top up" their bankroll. Once they have lost all €100,000, their game is over.
Clock

The game lasts for 10 days and this is portrayed throughout the game via a countdown clock. At the conclusion of the 10 days, the game is over and the player has the choice whether they want to play again or not. Players will not be able to place bets on any matches that don't start before the 10 day period is over.
Betting

When placing bets, there is both a bet maximum and bet minimum restriction.

Bet Maximum: This varies by game level (see below).
Bet Minimum: Players cannot stake less than 1,000 on any single bet unless your bankroll is less than 1,000.
Maximum Win: This varies by game level (see below).
Similar Bets: Players cannot place bets that are too similar to a bet they've already placed in order to circumvent the max bet rule. The formula for determining whether a bet is too similar to another bet previously placed is the presence of an anchor selection. A selection is considered an anchor selection when it is responsible for a large percentage of the cumulative odds for a bet. No selection can be considered an anchor selection for more than one bet. For example, you can't place a bet with England at 2/1 and then again as a double with England at 2/1 and another short odds selection at 3/10 because in both cases, England at 2/1 equates to a large percentage of the odds for that bet.

Matches, Markets & Prices: BetDash offers most of the sports betting matches & markets available on Paddy Power with identical prices for all markets offered. Due to the clock element of the game, outright markets generally will not be offered.

Virtual Betting: BetDash also abides by the same sports betting rules used by Paddy Power. Please review the overview of those rules here and search the Paddy Power help resources for further details. The only area where BetDash differs from Paddy Power is that in the case when a match is postponed, BetDash reserves the right to void the bet earlier than the 24 hour window that Paddy Power abides by. This is to enable players to make the most of their 10 days time frame.
Boosters

Boosters that go unused when a game goes bankrupt will be forfeit.
Challenges

Any challenges that go unsued when a games goes bankrupt will be forfeit.
Bonus Round

When a player reaches 1 million, they are automatically entered into the Bonus Round. No matter what happens from after that, their prize for reaching 1 million is safe. With the remaining clock time, players can go all out and try to increase their bankroll as much as possible totally risk free and with NO RULES! That's right, no bet max and no max win rules.
Game Completion

A game can end in one of three ways

Time Expires - Once the 10 days are over, the game ends.
Bankruptcy - If a player loses the entire €100,000 virtual bankroll before time expires, the game ends. Bankrolls lower than €1 are considered depleted. At no time does BetDash show or allow the user to make use of virtual currency amounts with a precision greater than whole numbers.
Surrender - A player can end their game at any point by choosing the surrender option. All pending bets that have started will be forfeited. All pending bets not yet started will be cancelled. The player will receive the prize based on their standing in the game at the point of completion (after bets have been forfeited/cancelled).

Game Creation

Players have the choice whether to play the game for free or for real money. With free games you have a chance to win game credits. Game credits can be used to buy in for real money games. You can buy into real games for as little as €2.

Admin

Admin




Posts

: 1901


Join date

: 2011-04-08




---
Permissions in this forum:
You
cannot
reply to topics in this forum